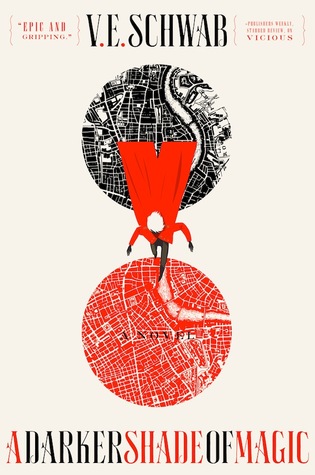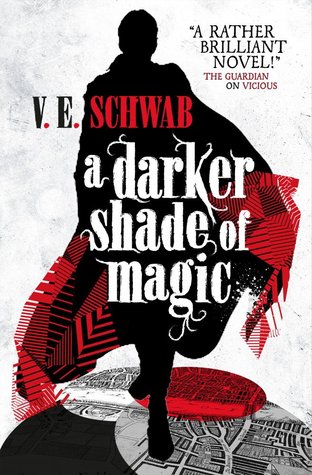 No review of this book should start without showing the absolutely gorgeous covers of this book. I mean, seriously. I need both copies STAT.
A

Darker

Shade of Magic
by Victoria (V.E.) Schwab
Published by Tor Books, February 2015

Okay. Let me start off by saying that it takes a lot for me to commit to a fantasy book. I don't know why, though I tend to be reminded of LOTR when I think of fantasy. Lots of description….I don't necessarily get bored, but my attention wanes. Plus I listened this as a free audiobook from Goodread's Ford Audiobook Club Group, so I was a little hesitant to start it. My friend Mari at Story and Somnomancy reviewed it with such high praises and squeeing that I couldn't ignore it.
First thing: the audiobook was narrated by a British speaker….I wish I knew who off the top of my head, but I don't. After listening to several American narrators, I came to the conclusion that this was not a book that I could start at work. I tried the first chapter five times. Once I got a good bit of the way in, it was easier to read.
A Quick Summary
Kell (or KL) is a rare type of warlock, one who can travel between the different Londons. There are four in total, referred to by Kell as Gray London, Red London, White London, and Black London. Gray London is boring, dirty, lacks magic, and is the London we all know. Next is Red London, prosperous and full of magic. It's also where Kell lives, adopted by the Royal family. White London sees magic as a power tool, and the country is ruled by whoever killed the last leader. Finally, there is Black London, which fell to magic and is cut off from the other three. Very little is known about Black London.
Kell goes through the three Londons, delivering correspondence between the royals. He also brings trinkets across the worlds, for a price of course. He's just a teenage boy, so this isn't too surprising. He's tricked into carrying a trinket that could get him seriously in trouble or killed, which causes him to exile himself briefly to Gray London. Here he meets Delilah "Lilah" Bard, and the two go back and forth saving each other's lives.
Thoughts
Okay. First of all, the author is barely 7 months older than me. What the heck have I been doing with my life?
Now that whining is done (which hit me randomly throughout the entire reading of this book), what characters did I not love in this book? Answer: None of them. Kell, though a bit of a typical teenage boy idiot, was enjoying. Lilah was simply the coolest cross dressing thief, and even the main antagonists were well developed. A book where I didn't want a character to just GO AWAY?
I haven't read any of Victoria Schwab's other books, but they're definitely on my mental list. I think my brother, who loves to read and is only 11, would love this book too. It's not necessarily geared towards the YA crowd, but there isn't anything too crazy about it. (Note: I texted him the recommendation. He wasn't too overjoyed at another recommendation. It won't happen anytime soon.)
This book does not have a love story. And you know what? IT DOESN'T NEED ONE. (Okay, maybe it has one in the making, and Kell's brother Rhys is a bit of a horndog, but STILL.) What I mean by this is Lilah is not some plot ploy to have Kell save the damsel in destress, she's not a sidekick who realizes he realizes he's in love with by the of the book. In fact, if there is a separate book for her adventures, I'd buy it. But I definitely 'ship her with Rhys.
I'm so curious about Black London, which I incidentally got on the Buzzfeed quiz:
I don't understand why, but that's okay. It seems like a terrifying place, but maybe it's not. I mean, White London is not a good place, so ….maybe?
Final Verdict
If you are looking for a relatively quick read, a good read, and a solid fantasy book, this is it. The second book is already scheduled for February 2016, which should feature more of the fabulous Rhys. I haven't seen this book get too many low ratings.